Dear Grandma
12/09/20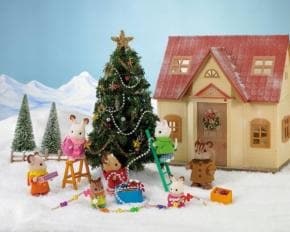 Christmas cards & carols
Dear Grandma,
It's finally December which means it's almost time for Christmas! I have been looking forward to putting our tree up and decorating the home for a long time. We spent hours last weekend making crafty decorations and the house looks wonderful now they are up!
I hope you received the Christmas card I sent you, it should have arrived last week. When you do, you'll see the photo on the front, it's very festive! Mother, father, Coco, the little ones and I got dressed in our warmest winter clothes and took a photo in front of the Christmas lights on the front lawn. They looked so pretty, it made for a very Christmassy picture, I do hope you display it on your mantelpiece with all of your other cards.
We all loved the Christmas card you sent to us, especially the message inside! We miss you too Grandma, we cant wait for Christmas Day so we can get together for a delicious lunch and a walk in the fields beyond the Sylvanian Village. I cant wait to feel the warmth in my stomach from the all the Christmas food and the crunch of icy grass below my boots!
Have you been lucky enough to have any people coming to your house to sing carols yet? I know we usually love going to sing together with the choir, so Coco and I are thinking about taking the little ones carolling around the village to spread Christmas cheer. It is our favourite time of year after all! You must remind me what your favourite carols are so we can add them to our sheet!
I must dash now, I think I can hear Crème playing with the Christmas decorations!
Freya Chocolate