Introducing
10/16/20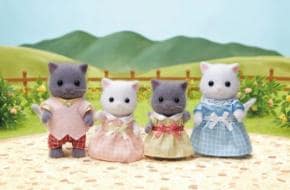 Introducing: Persian Cat Family
Give a warm welcome to the Persian Cat Family, the newest residents of Sylvanian Village! They're an extra big family of ten characters, each of whom has completely different personalities and interests. Despite their differences, they all share their recognisable fluffy fur!
Lucas Persian is the father of the family and prides himself on his strong dancer's physique. He drinks a delicious homemade smoothie every morning and always tries to get his wife and children to try his latest recipe.
Dawn Persian is a keen astronomer who spends most of her evenings gazing up at the sky. She's always eager to learn more about constellations so spend hours studying her star charts – she always know the answer any questions her children may have!
Lyra Persian is one of the twin who is especially happy with the new family home as it means she gets to learn about how the elevator works! She loves to tinker with machines and is always fascinated by how they work. Her mother Dawn hopes she doesn't tinker around with the elevator too much though, or she'll have to take the stairs!
Skye Persian is Lyra's twin who has an eager interest in the natural sciences. As the seasons change, she likes to study the differences in the weather and especially loves recording the changes with her weathervane!
Ryan Persian is the oldest baby in the family. His passion is for photography and his best day ever was when his mother gave him his first camera! Now you'll always find him taking pictures of his family, but equally loves to strike a pose in front of the camera too!
Leah and Bellamy Persian are the baby twins. They can often be found playing on their ride-on-train together, where Leah always gets Bellamy to push her!
Blair, Blake and Brianna are triplets and are the youngest members of the Persian Cat Family. Blair is the mischievous one, Blake's favourite smell is mint and the family thinks Brianna is growing up extra quickly - she was the first to roll over after all!