For Sale
11/08/19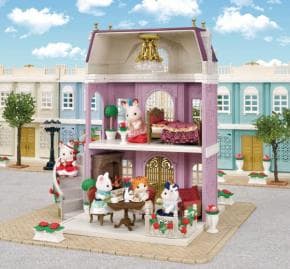 Elegant Town Manor
Hello there! Are you here to have a look around the Elegant Town Manor? The clue is in the name - this is an exclusive, luxurious property that I know you're going to love!
Oh, look up there, Stella is waving at you from the balcony! Now, lets go in and I'll show you all the features of this home. It's just through these doors, which you'll notice have beautiful gold engravings for a touch of sparkle.
On the ground floor there's a spacious living area, which would be perfect for throwing wonderful dinner parties or having a sleepover with all your friends. You can decorate it however you like, so you could ask Stephanie Marshmallow for some interior decoration ideas if you get stuck.
Now let me show you upstairs. The spiral staircase is extra grand and can be moved anywhere in the building, letting you change things around when you feel like it. Here we are! This floor can be used as the main bedroom, with lots of room for your bed and wardrobe. Now if you look up, we have the best feature of the house - this extra sparkly chandelier! The light makes the most wonderful shapes through it, don't you think? There's even a little balcony outside, so you can star gaze until your heart's content!
It's in a brilliant location, just down the road from the Grand Department Store and a hop, skip and a jump to the Ride Along Tram for when you want to visit home.
So, what do you think? You like it? I knew you would and I'm sure you'll be very happy indeed here!